Food411's Fancy Food Show Picks 2014
Once again we tackled the super bowl of food, The Fancy Food Show 2014. With over 180,000 food products to taste our way through, our goal was to search out only the highest quality items, and the new and exciting trends in our continual effort to keep our Food411 online directory updated and fresh.
Still trending is everything gluten free, prompting one of my colleagues to say, " Is there anything with gluten I can try!!". Infused vinegars and mayonnaise and ketchups seemed to be a new trend, as well as, numerous "naturally" flavored popcorns, kale chips Many premium small batch ice creams and yogurts. As always the amount of top notch chocolates and cheese made my heart ache just looking at them.
Here are just a few of our top picks. Be sure to check out the Food411 directory whenever you are looking for the best resources. We will add all of our selections to our directory shortly.
Our 2014 Fancy Food Favorite Finds in random order:
Wondergrain – has brought wholegrain sorghum to the US market. Gluten-free bakers, will be familiar with sorghum flour to make pancake, and baked goods. But we have not seen the whole grain sorghum until Wondergrain. I met the women that own Wondergrain, they gave us samples of their aromatic cooked sorghum and lentil sorghum soup. They had such enthusiasm and passion for this grain, I had to try it ( even though it was the end of the day and had no desire to put anything into my stomach! ) It is delicious!!! This is a Whole-grain, naturally gluten-free, high-protein grain that's a staple in Africa and parts of Central America and South Asia. Similar to barley, whole-grain sorghum must simmer for 55 minutes, but the pearled version takes just 35 ( but is not whole grain). It freezes well, which will allow you to easily add it to soups, stews and slow-cooker meals, or just toss into your salads! Go to Patricia's website for many recipes.
Sahara Date Company – Another Nature to Market product, Sahara Date Company was founded by two cousins—Maile Ramzi and Jean Houpert—with the simple goal of bringing the highest-quality, most delectable Saudi dates to people in the United States. These are THE most delicious dates and the packaging is beautiful. Buy these sweet natural treats and substitute them for your processed "energy" bars or give them to your children instead of sweets and process snacks. Dates are full of fiber, vitamins, minerals, antioxidants. We tried a few types and they were all unbelievable.
Calamondin Café – Artisanal bake goods, jams, salts made from the heirloom Florida citrus – Calamondin. Order online or if you are in the Fort Myers Fl area, stop by...they encourage visiting and sampling. Excellent products that offer a new citrus flavor.
Counting Sheep Coffee – What a great idea this is! Now you can enjoy your coffee in the evening and get a great night's sleep. This Swiss Water® decaffeinated coffee is blended with organic valerian root (herbal sedative) to create a great tasting coffee and help you unwind after a long day. Available in the original Bedtime Blend / 40 Winks and the stronger version Lights Out! with more valerian added and a bolder taste. We all tasted this coffee and found it delicious. Time to create a new nighttime ritual!
Rishi Tea – Whole tea teas loose or in fine mesh tea bag ( just perfect). We were given a Jade Cloud green tea bag sample, it was simply a delightful tea experience – fresh and bright favor. We just placed a order and are looking forward to many more relaxing cups of this tea!
Finum – Outstanding tea and spice accessories. We have been familiar with their paper tea bag filters, and their terrific individual cup brewing basket but at the FF show we discovered much more! Beautifully designed tea makers and spice grinders that are beautiful to look at and function extremely well.
Macaron Paris – NYC is filled with macaron bakeries of the highest quality. These, however, seem to stand out. The creative bright flavors, and the crispy but chewy shell are outstanding.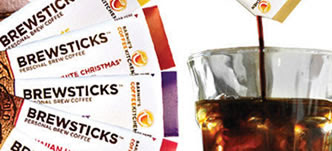 Barnie's Coffee Kitchen BREWSTICKS. New single serve liquid coffee that comes in portable packets. It makes delicious coffee on the go in hot, iced or bottled water. A really unique concept. BREWSTICKS are 100% cold-brewed Arabica coffee, all natural with no sugar or preservatives and low in acidity.
Vosages Super Dark – at the Fancy Food show there are just so many wonderful chocolates that caught our attention, we have written about Vosages chocolates many times but they never seems to be satisfied with resting on their laurels, always coming out with new and exciting flavor combinations to add to their outstanding chocolate. We thoroughly enjoyed their new super dark bars that are combined with super foods. A few examples: matcha green tea, reishi mushroom & walnut. For unique chocolate gifts, Vosages always delivers.
MAMA O'S Premium Kimchi – A variety of very delicious kimchi or order the make your own kimchi kit. Kimchi has been the rage this year with the recent publicity of its anti-inflammatory properties and amount of probiotics in it.